The Spiderwick Chronicles

Author(s)

Published

May 2003 to September 2004

Number of books

5
The Spiderwick Chronicles are a fantasy book series of five books by Holly Black and Tony DiTerlizzi, published at Simon & Schuster Books for Young Readers.
Plot summary
Edit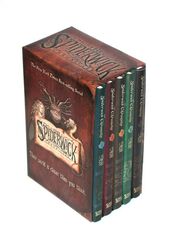 The books features the three
Grace children
:
Jared
,
Simon
and
Mallory
, who finds a mysterious
Field Guide
hidden in the attic, written by their great-great-uncle
Arthur Spiderwick
, who studied
Faeries
— magical beings who hide themselves from Humans using a type of magic called
glamour
. Soon, the children gets involved in this
Invisible World
and have to defend the Field Guide from the evil, shape-shifting
Ogre
Mulgarath
and his army of
Goblins
.
The first book,
The Field Guide
, was published in May 2003. It opens in Maine, New England, where the three Grace children moves into the old, ramshackle
Spiderwick Estate
along with their mother,
Helen
. It doesn't take long until mysterious things start to happen, and when Jared finds a mysterious Field Guide in the attic, he discovers that the events are caused by a
Boggart
; a troublesome, nasty little creature that was once a helpful
Brownie
named
Thimbletack
. Jared is blamed for the mischief that the Boggart causes, and it is only his twin brother Simon that
believes him when he says that it wasn't him. Finally, Jared convinces his older sister Mallory to help with creating a new home for the Boggart, as they had destroyed the first one. And, after a week, they see the house Brownie Thimbletack, who warns them about how dangerous the book can be.
The second book, The Seeing Stone, was also published in May 2003. When Simon Grace is kidnapped by a band of vicious Goblins, Thimbletack leads Mallory and Simon to an awkward object: a Seeing Stone, which allows one to see invisible Fey.