Holly Black

Gender

Female

Born

November the 10th, 1971, New Jersey

Occupation

Author
Holly Black, born as Holly Riggenbach, is a 41 year old American author, editor and producer. She is best known for being the writer of The Spiderwick Chronicles.
Early life and education
Edit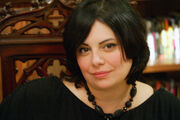 Holly was born in the borough West Long Branch, New Jersey in the year 1971, and there she spent her early years in a large Victorian house where her mother would tell her ghost stories and folklore myths at night. This would be an important influence for her in her future career as a famous author.
She graduated from University of New Jersey in 1994, and worked as production editor on medical journals while studying at Rutgers University. She considered becoming a librarian as an backup career, but got blown away by drawing. She married her high school love, Theo Black, in 1999.
Holly, Theo and a lot of pets live in Massachusetts Armherst, Massachusetts since 2008.
Writing career
Edit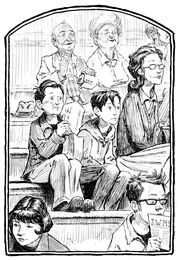 Her first novel,
Tithe: A Modern Faerie Tale
, published in 2002, became a bestseller in notime, and two sequels,
Valiant: A Modern Tale of Faerie
(2005) and
Ironside: A Modern Faery's Tale
(2007), soon followed.
She also produced the Spiderwick Chronicles along with Caldecott-awarded illustrator and writer Tony DiTerlizzi. The Chronicles include: The Field Guide, The Seeing Stone, Lucinda's Secret (2003), The Ironwood Tree, The Wrath of Mulgarath (2004), Notebook for Fantastical Observations, Arthur Spiderwick's Field Guide to the Fantastical World Around You (2005) Care and Feeding of Sprites (2006), The Nixie's Song (2007), A Giant Problem (2008) and The Wyrm King (2009).
She was also co-executive producer of The Spiderwick Chronicles movie, which was released in February 2008.
Holly Black has also written an overwhelming number of other novels.