Arthur Spiderwick's Field Guide

Author(s)

Arthur Spiderwick; edited and restored by Holly Black & Tony DiTerlizzi

Published

November 2005

Series

The Spiderwick Chronicles
Arthur Spiderwick's Field Guide to the Fantastical World Around You, also known simply as Arthur Spiderwick's Field Guide, the Field Guide, or the Guide, is the book written by Arthur Spiderwick about the Invisible World. The Faerie people were worried about the Field Guide, as it contained information on all their weaknesses, which, if published, could mean the extinction of the already endangered Fey. Therefore, the Elves wanted to destroy the book, but when Arthur didn't give them the Guide, they imprisoned him in their kingdom for almost 80 years, but he didn't age a day.
When the Grace family moved into the Spiderwick Mansion, the three children soon discovered the book and were forced to fight to prevent the evil Ogre Mulgarath and his Goblin army from obtaining the book, which they would use to rule the world.
When the Guide was saved and Mulgarath died, the children contacted the authors Holly Black and Tony DiTerlizzi and convinced them to publish the book at Simon & Schuster Books for Young Readers.
Book Download 
Edit
[Spiderwick's Field Guide.PDF]  Link 2 (Scribd)
Contents (published version)
Edit
Around the House and Yard
Edit
In Fields and Forests
Edit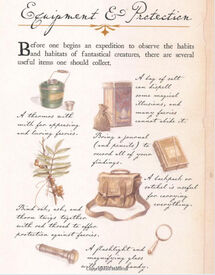 ---
In Lakes, Streams, and the Sea
Edit
---
In the Hills and Mountains
Edit
---
In the Sky
Edit
---
Outside at Night
Edit
---
Community content is available under
CC-BY-SA
unless otherwise noted.