Allister Sassafeas

Species

Old-World Leprechaun (Sutor vetus)

Gender

Male
Allister Sassafeas was a male Leprechaun that lived in field near Spiderwick Mansion and maked single shoes. He wore a hat tucked with grass, which provided some camouflage during work, and shoes with sharp prongs on the buckles, which was used as spurs while riding livestock. His purse were filled with gold-painted stones.
Allister had a brother named Bernie.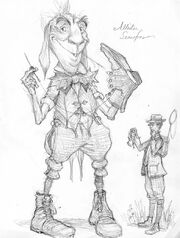 Appearances
Edit